Resumes, Career Change and Job Search Services
for Lawyers 

and Executives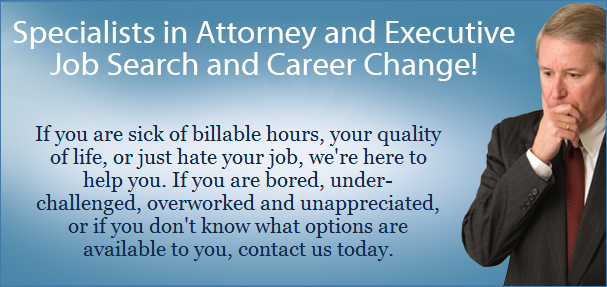 With Career Strategies, There is a Way Out!
We help people find jobs. But not just any jobs. We help people earning $125,000 or more per year
find the right jobs at the right salaries with the right work/life balance. Our executive clients are
Presidents, Vice-Presidents, CFOs, CMOs, Executive Directors, Department Heads and others who
report to the C-suite. Our legal clients come from the ranks of Partners, Senior Associates, and
successful solo practitioners. We also work with entrepreneurs, government officials and other
professionals. The common theme among our clients is that they are smart, successful, and no
longer love their jobs.
Imagine how much better your life would be if you actually enjoyed your work or running
your business. Well, you can. And we can help you. It's what we do. We have provided career
guidance to several thousand clients and are A+ rated by the Better Business Bureau.
Alternative Careers for Lawyers & Executives
We are specialists in job search, particularly alternative careers for lawyers and executives.
We have been helping senior-level clients find new positions in law, business, non-profits
and universities since 1992. If you are looking to see what else is "out there," to
explore your career options, or to move up in your current profession, we can help.
If you feel stuck and don't know how to begin, begin by calling us.
Contact Career Strategies Group for a free initial consultation and marketability assessment.
Career Strategies for 50+, 30-somethings and Gen X's in their 40s
We provide career strategies and job search assistance for experienced professionals.
We have special expertise in the unique needs of those over age 50, and have been
very successful with those who seek to be changing careers at 50 or older. Our knowledge
and resources also help those in the early- or mid-stages of their careers.  We help highly
talented and accomplished people make the best choices for their personal and
professional growth.
Our services include:
* Career testing and assessment to identify alternative career options
* Powerful resumes and cover letters
* Aid in finding companies and job leads
* Coaching, mentoring and brainstorming
*  Interview preparation and salary negotiation.
We also offer low cost Self Help job search tools including social media job search options.
If you are a solo practitioner or business owner and seeking ways to improve your career,
increase your revenues and quality of life, our coaches and business advisors can help you.
___________________________________________________________________
Our Clients Say…
"I felt absolutely helpless because I submitted my resume to so many potential employers and either
didn't get a bite or was ultimately rejected.  I was also certain that I wanted to get out of law but wasn't
sure how to go about doing so, or even whether that was the right career decision for me. I knew even
before coming to Career Strategies  that I was a valuable asset  to a company, but I now have a greater
recognition of exactly what I do that imparts such value. I believe that I even feel more validated now in
my personal life …  Just the resume-recrafting services alone are worth it …
I wish I could tell more lawyers who feel chained to their current job duties or
profession that there is a resource available to help them."  — Thank you, Pat! You just did!
Put our expertise to work, and we will help put you to work … in a job that makes you feel like what
you are doing is worthwhile, fulfilling and intellectually challenging.   Give us a call or send us an email
today to see if we can help you. Better yet, just click on this link and make an appointment to learn more.
_____________________________________________________________________________________________
Call Career Strategies Group
Career Strategies that Work (866) 898-4228