Career Strategies for Executives and Lawyers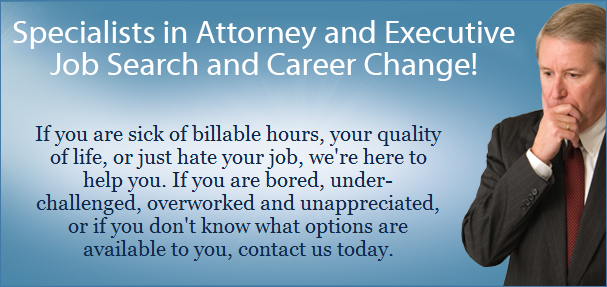 Career Strategies Provides a Way Out!
We help people find jobs. But not just any jobs — the right jobs in the right organizations at the right salaries with the right work/life balance. Imagine how much better your life would be if you actually enjoyed your job. Well, you can. And we can help you.
Alternative Careers for Lawyers & Executives
We are specialists in job search with alternative careers for lawyers and executives. We have been helping clients find rewarding and lucrative new positions in law, business and universities since 1992. If you are looking to see what else is "out there," to explore your career options, or to move up in your current profession, we can help.
If you feel stuck and don't know how to begin, start by calling us to discuss new career strategies. Contact Career Strategies Group for a free initial consultation.
Career Strategies For All Career Levels
We provide career strategies for professionals at all career levels. Whether you are in the mid-career stage, just starting your career, or changing careers at 50, we have the resources and expertise to help you make the best choices for your personal and professional growth.
We do career testing and assessment to identify alternative careers for lawyers and others. We write powerful resumes and cover letters. We help you find companies and job leads. We can mentor and coach you through the entire job search process, including interview preparation and salary negotiation. For those who want to captain their own campaigns, we offer low cost, dynamic Self Help job search tools that include using social media job search options.
We have guided several thousand clients through job search or career change campaigns, and are proud to have earned and maintained an A+ rating by the Better Business Bureau.
If you are a solo practitioner or business owner  and are seeking ways to improve your career, increase your revenues and quality of life, our career coaches and business advisors can help you, too.
_________________________________________________________________________________________
Our Clients Say…
"I felt absolutely helpless because I submitted my resume to so many potential employers and either didn't get a bite or was ultimately rejected.  I was also certain that I wanted to get out of law but wasn't sure how to go about doing so, or even whether that was the right career decision for me. I knew even before coming to Career Strategies  that I was a valuable asset  to a company, but I now have a greater recognition of exactly what I do that imparts such value.  I believe that I even feel more validated now in my personal life …  Just the resume-recrafting services alone are worth it …  I wish I could tell more lawyers who feel chained to their current job duties or profession that there is a resource available to help them."                                           — Thank you, Pat! You just did!
Put our expertise to work, and we will help put you to work … in a job that makes you feel like what you are doing is worthwhile, fulfilling and intellectually challenging.   Give us a call or send us an email today to see if we can help you. Better yet, just click on this link and make an appointment to learn more.
_____________________________________________________________________________________________
NEED A MOTIVATIONAL SPEAKER FOR YOUR GROUP OR ORGANIZATION? CALL US!
If you are looking for an informative and entertaining presentation on job search, career strategies and development, Contact us at Career Strategies Group. We offer 30 minute "lunch and learn" programs. We also offer 60 and 90 minute detailed job search and career strategy seminars. We are a available to civic and religious organizations, professional associations, graduate schools and private companies. We also offer half-day and full-day job search and career development programs. If you would like us to develop a powerful presentation for your organization, please give us a call.
_______________________________________________________________________________________________
If you are a lawyer or executive looking for a new career at 40, 50 or 60, are seeking to change careers or explore a career change, we can help. If you are looking for new jobs in law, are looking at career options, contemplating an alternative career or alternative legal career, or need a life coach, career coach or career counselling in any form, give us a call today! We offer the full range of job search services, including executive and legal resumes, resume distribution to recruiters, leads for legal jobs and attorney jobs, career testing and much, much more.
Call Career Strategies Group
Career Strategies That Work (866) 898-4228