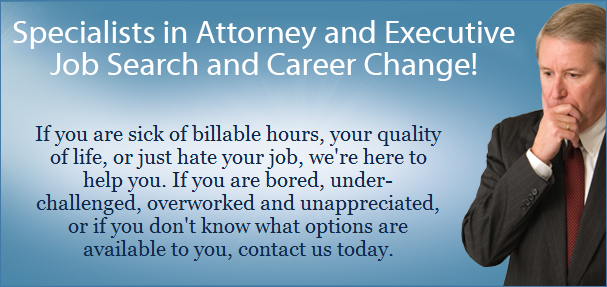 There Is A Way Out
As specialists in job search and alternative legal careers, we have been helping attorneys and other professionals find new, rewarding and lucrative positions — in the law or elsewhere — since 1992.
If you are looking to explore your career options, advance in your current track, or are even seeking ways to enhance the revenues from your private practice or business, our career and business advisors can help.
Whether you are a young attorney just starting out, a mid-level associate wondering about your future, or a partner or solo curious to see what alternative legal careers may be available to you that will pay what you need to earn, our experts can help.
We have guided several thousand clients through legal job search or executive job search campaigns. We have also helped attorneys and other business owners increase their profits, work more efficiently and improve the quality of their lives.
Put our expertise to work, and we will help put you to work …
in the right job, the right organization, at the right compensation and with the right colleagues.
Make an appointment to learn more