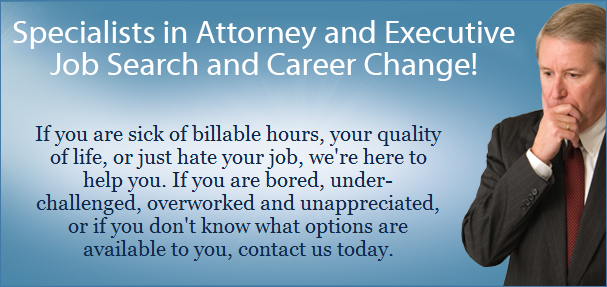 There Is A Way Out
As specialists in job search and alternative careers for attorneys, executives and professionals, we have been helping clients find rewarding and lucrative new positions since 1992.
If you are looking to explore your career options, advance in your current track, explore new areas, or even seeking ways to enhance the revenues from your practice or business, our career and business advisors can help.
We have special expertise in the career and job search issues of those who are in the 50+ age bracket, but we are also extremely well-versed in the career planning and job search needs of those at other stages of their careers.
________________________________________________________________________
Are You Stuck in Your Career for the WRONG REASONS? Get unstuck on Tuesday, Sept. 16 at noon EDT. 
"7 Myths about Alternative Careers for Lawyers"

To register, click on this link: 
 or email us at info@careerstrategiesgroup.com to register.

           You CAN have a job you actually love! Find out how tomorrow at 12 noon ECDT.

_______________________________________________________________________
You may be a young professional just starting out and in need of some career planning. You may be in mid-career and wondering about your options. Perhaps you are a more senior-level attorney, executive or business owner looking to see what alternative careers or job options may be available to you.
Regardless of your career level, our experts can help.
We have guided several thousand clients through legal job search,  executive job search or career change campaigns. We have also helped attorneys and other business owners increase their profits, work more efficiently and improve the quality of their lives.
Put our expertise to work, and we will help put you to work …
in the right job, the right organization, at the right compensation and with the right colleagues.
We are A+ Rated by the Better Business Bureau, and have helped more than 2,000 clients through their career transitions. Give us a call or make contact with us today to see if we can help you!