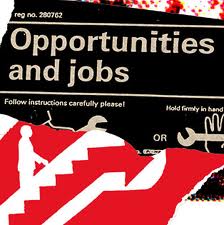 We are frequently obtaining new job leads from our recruiting affiliate, PMR. We also get job leads from our clients, contacts and network of other recruiters with whom we have close working relationships. As a service to our clients and friends, we encourage them to post their company's openings on our site, free of charge.
If you are a job seeker, check this site regularly for new positions. If you are qualified for one of our openings, please email your resume, cover letter and salary history to us at PMRrecruiting@careerstrategiesgroup.com.
BE SURE TO PUT THE JOB NUMBER or TITLE in the Subject line of your email to us.
As we enter the spring,  we are pleased to offer some more new jobs.  Doris Smith Fellenz, our chief recruiter, has been particulary busy these days and has provided us with job openings in New York, New Jersey and Washington, D.C. If you are interested in one of these positions, or know someone who could be, please get in touch.
FEATURED JOBS
Mid to Senior Level Associate 
Executive Compensation & Benefits / New York – ECB426
Seeking a mid to senior level associate with 3-5 years of experience practicing Executive Compensation & Benefits in a major law firm, with a significant portion of that experience being in a transactional context. High level of academic achievement and law firm experience a must. Please send resume, cover letter and salary expectations.
In-House Counsel, New York, NY AGC423 
This one is just in! A growing compant in NYC is seeking a mid-level attorney to join its legal team. Experience in corporate transactions is critical. Big Law and top academics are far preferred. This spot is for a self starter with superior research and writing skills, who can operate independently, and who is eager to learn new areas of law under often pressured deadlines. Prior in-house experience is an advantage. Please send resume cover letter with desired compensation and reason for seeking a new job.
Commercial Real Estate Transactions Attorney, New York, NY RETSr1
Law firm client is seeking a commercial real estate attorney with 5 to 15 years of New York City real estate experience. The ideal candidate will have current and deep skills in commercial real estate transactions, including acquisitions, sales, financing, lending, development, and leasing.
The chosen candidate will represent commercial landlords and tenants in complex lease and sublease transactions. Experience in preparing and negotiating leases and sales-leaseback transactions for several type of businesses, such as shopping centers, retail, office buildings, business developments and more is needed. Must also be experienced with all aspects of lease administration, including dispute resolution and tenant exit strategies. A large law firm background is NOT required, but the candidate must have excellent academic credentials.
Please submit a resume and cover letter, along with your salary expectations.
Litigation Associate, Morris County, New Jersey #212-LANJ
Seeking an insurace Defense Litigation Attorney with three to six years of experience. Work closely with other attorneys and Partners. Independently manage a defense litigation caseload from start to closing. Court appearances will be routine on a daily bases. Must have depositions experience and have worked with a wide variety of civil defense litigation claims.
Family Law Attorney, Bergen County, New Jersey 212-FAM NJ
The ideal candidate will have five to ten years of experience in Family Law with top academic credentials. Graduation date must be 2008 -2012. The Attorney must have experience and focus on various family law matters, in and out of court. Associate should be very proficient with drafting motions, pleadings, discovery, prepare clients for trial. Submit cover letter, and resume. Writing samples and transcripts may be requested.
Family Law Attorney, Newark, NJ area, 212-FAMNJ2
Our search continues for a full time junior to mid-level associate to handle all aspects of family law matters. The ideal candidate will have completed a family law clerkship, have excellent research and writing skills and a strong understanding of NJ matrimonial law. This is an excellent long term career opportunity for the right individual with superior academic credentials who is eager to develop legal expertise while taking on significant responsibility in all aspects of cases and client relations.
Litigation Attorneys, Prestigious Firm, LI, New York – 212-MLA
This is a potential partnership spot for senior Litigators with 10+ years of experience. The position is with the commercial litigation department of a high end Long Island firm. Must have trial experience at federal and state courts.
The Firm seeks attorneys who meet high standards of academic and professional excellence. They hire attorneys educated at the nation's best universities and law schools and who have experience in practice at large national and international firms.

Labor & Employment Associate, New York, NY 212-LAE1
Law firm searching for talented Associate with an entrepreneurial spirit. The Associate must have 3-5 years of MANAGEMENT side labor and employment litigation experience. The candidate should possess excellent academic credentials and a solid background labor and employment litigation. The candidate should also possess substantial federal, state and administrative level litigation experience including taking and defending depositions, motion practice and making independent court appearances.
Trusts & Estates Attorney, New York 212-T&E
Candidate must have at least 5 years of sophisticated Trust & Estate experience including areas such as sales to grantor trust, GRATS, SCIN, private annuities along with general experience with business entities and knowledge of estate administration. Portable business is NOT required. Must be able to provide high level tax, estate planning and asset preservation guidance for executives of major companies, entrepreneurs, high net worth individuals, multi-national businesses, and many non-profit institutions, including substantial international planning.
Attorneys with Portable Business, New York, New York 212-PORT
Law Firm in New York City is seeking experienced attorneys in areas of commercial litigation, real estate, white collar, government investigations, labor, health care, IP, financial services and corporate law to join our firm's growing New York City office. Candidates must have a portable book of business and a demonstrated drive for additional business generation. Candidates will gain access to our well-developed national platform coupled with our flexible rate structure and tailored client service arrangements. Outstanding cross-selling opportunities and substantial autonomy.
Antitrust Jr. Associate, Washington, DC, 212-ANTI
Seeking a junior level Associate with two or three years experience working on substantive antitrust matters and transactions, including antitrust litigation and counseling, investigations and second requests issued by the antitrust enforcement agencies, and CID responses. High level of academic achievement and large law firm experience preferred.
Mass Torts Litigation Associate, New York, NY 212-MTL2
Seeking Associate with three to five years' significant experience in legal research and brief writing at the trial and appellate court level. The firm is particularly interested in candidates that have experience drafting motions to dismiss and oppositions to class certification in a wide variety of substantive contexts. Experience in drafting pre-trial briefs on evidentiary/admissibility issues and on discovery-related issues (including spoliation allegations) would be beneficial, as would general experience with appellate briefing. High level of academic achievement and large law firm experience preferred.
Real Estate Associate, New York, NY, 212-RET4
Seeking associate with the four to six years' of experience. Proficiency in working on a broad range of sophisticated commercial real estate transactions including acquisitions, dispositions, financings, joint ventures, fund formation and leasing. High level of academic achievement and large law firm experience preferred.