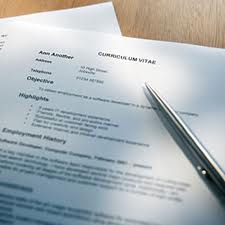 Is Your Resume Marketing You Effectively?
If your phone isn't ringing, call us.
The development of a compelling resume is critical to the success of any job search.
We write compelling resumes and letters, something every job campaign needs. We have unparalleled expertise in writing legal resumes. For career changers, we also have more expertise than any other organization in the country in preparing resumes that show why you can be qualified to function in a new career area that is outside of your primary career track. We know how to prepare documents that show your true value to senior executives and other hiring managers. Our resumes produce interviews. It is as simple as that.
We all know resumes are important. But did you know that most resumes receive only a 7-12 second initial evaluation? If the hiring partner or executive doesn't see what they are looking for in just about the time it has taken you to read this paragraph, your resume will land in the "reject" pile. Also known as the garbage can.
Top recruiters say that the way to get your resume read is to feature your achievements and successes. It is not what you know, it is what you have done with what you know. That's the approach we take, and that is why our resumes help you stand out from the crowd.
We will develop a document that shows a "fit" between your abilities and the wants and needs of your targeted market. We will go through your career, identify those aspects of your background that are relevant to your career objective, and create a document enabling you to compete effectively in the
market.
One of the key job search challenges that attorneys and other professionals face is how to differentiate themselves from other candidates with similar academic and professional credentials. Let's face it. How does one personal injury plaintiff side attorney with 10 years of experience differentiate himself from another PI plaintiff attorney with 10 years of experience?
Brand identify is our area of expertise. There is a great deal of competition out there!
We will prepare a compelling, attractive resume that will help you break away from the rest of the pack.
We can also provide a range of other marketing materials, including cover letters, recruiter letters, market letters and salary histories.
Did you know research indicates the cover letter is more important than the resume itself? The resume is all about your past and what you have done, but the letter, when done properly, is about your future and what you can do. There's a big difference. Most people make the mistake of using their cover letters to reiterate their resumes, which is an ineffective use of the document. We carefully craft our cover letters to complement and dimensionalize the resume, thus adding important information about the candidate's value to the prospective employer.
FACT: Companies and law firms receive hundreds, sometimes 1000's of resumes, in response to a single classified ad or internet posting.
FACT: Most resumes get 7-12 seconds to make the grade.
FACT: To compete successfully, your resume must stand out from the crowd.
FACT: Getting job today means being in the right place, at the right time, with the right materials. It means showing you have more value than your competitors.
FACT: Our resumes and marketing materials will give you a Competitive Edge.